Free shipping to the USA. International orders must also add an international shipping charge to your order. Click below to add and learn more.

---
---
The Commodore 64 was created over 40 years ago in 1982 and sold millions of units through a nearly 12 year production span. To this day, there is an active and vibrant community around the 8-bit machine, creating new software and games that push the boundaries of what this 1 MHz machine can do.

I've repaired several Commodore 64's in the past and wrote about them on Twitter and on my blog. These machines, although simple by today's standards, can still be devilishly tricky (but still fun!) to repair. That's where the schematics come in handy. They show each signal path on the motherboard so you can test different components that aid in narrowing down the culprit(s).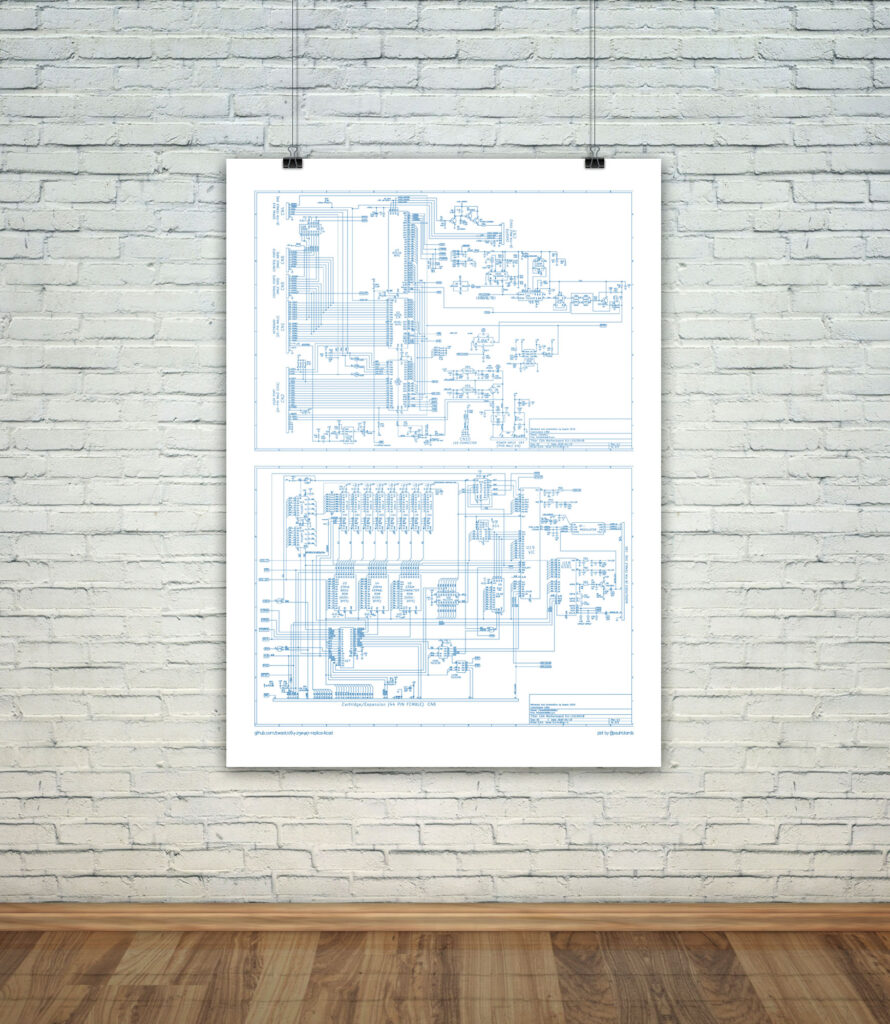 This C64 motherboard schematic is a recreation of the 250407 motherboard from 1983. Several enthusiasts spent years reverse engineering the PCB and recreating the schematics in KiCAD as an open source project ultimately completed by bwack.
You can learn more about the C64 250407 replica project at the GitHub site.
A motherboard schematic such as this is best viewed on large sheets of paper. In the past, pen plotters would have been an excellent choice for this task.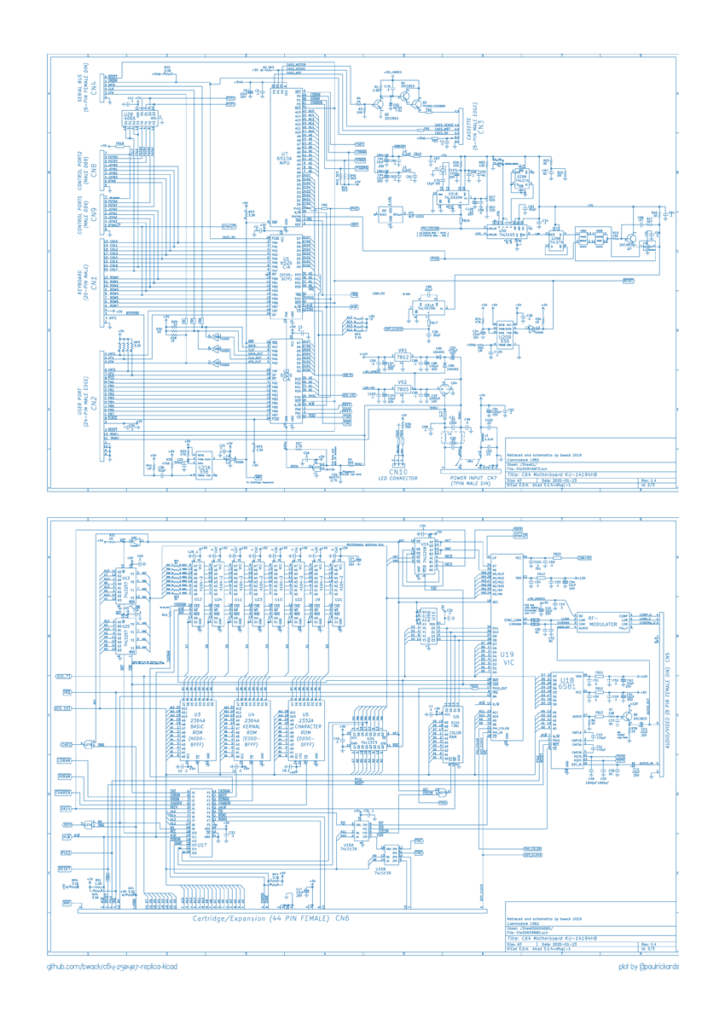 The work is plotted using the source SVG files. The plot itself consists of the two pages of schematics stacked in a portrait orientation and plotted on thick 24″ x 36″ watercolor paper in blue ink using a vintage HP DraftPro DXL pen plotter.
Order Your Own Plot
Commodore 64 250407 Replica Motherboard Schematic
24″ x 36″ watercolor, $250 $200 (free shipping to the US)
$50 off for the first five orders. Plot is shipped rolled, bagged, and boxed (unframed). Framing options are left to you, but this frame is a quick solution and doesn't need an over-matte.
Outside the US? You can still order but please make sure to add the US$50 international large plot shipping charge to your cart (top of the page).
Bonus Items
Included with your purchase: Commodore Logo Specification. The original Commodore logo as designed by Chris Yaneff in 1965. This recreation follows the original specifications of the logo and recreates the original logo in perfect detail. Plotted on a vintage HP 7550+ pen plotter on letter card stock. A perfect accompaniment to the C64 schematic.
You'll also receive several postcards and other surprises as a way of saying thanks!
---